Christmas 2018 Greetings from En-Gedi
Dear co-workers in the Lord's ministry:
Please receive our special 2018 Christmas greetings and best wishes for the new year 2019!
We are grateful to God for another beautiful year full of blessings; and for seeing God at work with us and in our lives; grateful that you have continued with us in this life transforming ministry.
En-Gedi Home has continued to be a safe haven for children with special needs and we have witnessed tremendous improvement in the abilities of the children – both physical and mental.  From just one child who could talk at the beginning of this year, we now have 3 and 2 others gaining new words consistently.  When we sing together, we now can hear more clear words than just a few months ago.  Two children are able to hold support and stand for a few minutes at a time.   As we do our best in caring for these children, God will continue to do the rest in their lives.  Thank you for the many prayers you offer for us and for your continued financial support.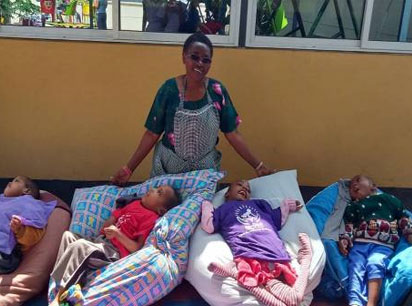 We already enjoyed our Christmas cake, though we still expect a few more from community people who have called to say they will bring cakes to the children on Christmas day. 
And, God continued to send welwishers to us to bring foodstuff and other goodies for these lovely children.  Glory and honor belong to our God.  Our pantry has enough food & supplies to take us another two months.