En-Gedi Children's Home – October 2018 Update
Dear friends and servants with me, receive warm greetings from me and my En-Gedi family! 
I am encouraged by the words of 2nd Chronicles 15:7 "But as for you, be strong and do not give up, for your work will be rewarded".  And I read this verse with Colossians 3: 23&24 – "Whatever you do, work heartily, as for the Lord and not for men, knowing that from the Lord you will receive the inheritance as your reward. You are serving the Lord Christ." 
These last couple months have been hard seeing one of our kids consistently trying to keep alive.  As much as I said I would be prepared for any eventualities related to the lives of these God's special children, I get overcome by compassion and I keep
reminding myself that "at En-Gedi, we do our best and God does the rest".  This boy – SONTO has a spine that curves to the back and it's been so hard on his chest when both his head and his legs curve so strong in endless convulsions.  The specialist has said Sonto is not sick and that we just keep administering the tablet to reduce convulsions.  Please keep praying with me for Sonto and for peace. 
We are otherwise all fine and continue to witness God's presence with us and His providence in our everyday lives.  Besides the challenges related to disability, we have had no sick children to warrant us to go to the hospital.  Glory and honor are to our God.  The caregivers are all fine and happily serving with me.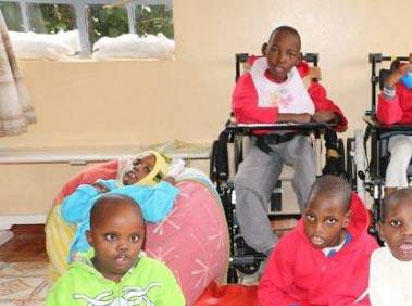 Since the last update, God has provided resources for a back-up generator that makes our training centre cum guesthouse sell better.  Although we have not had any groups renting, we have had many enquiries and we are hopeful for income generation through this facility.  
Our garden is a resource for spinach, carrots, kale, plantains (cooking bananas) and papaya fruits. This helps us save money for other necessary supplies. 
Please accept my thanks and great appreciation for your continued prayers, thoughts and financial support.  Together, we are making a difference in the lives of these children, their families and the community as a whole. 
Pray with us for continued God's guidance as we make decisions to take in more children; for continued health and strength for all of us.  Thank God with us for providing finances to build the children's playground.  Thus far, the Lord has helped us!
Many blessings to you all,
Margaret Njuguna
Founder/Director – En-Gedi Children's Home, P. O. Box 763-00204 Athi River, Kenya.